Prvi NASCAR automobili su bili identicni onim automobilima koji su vidjani na ulicama. Ljudi bi cesto dolazili sa svojim licnim automobilima na trke, vadili iz njih sve sto bi dodavalo tezinu, trkali se sa njima i, ukoliko auto prezivi, vozili ih kuci. Citao sam jednu knjigu o Richard Petty gde se on seca kad je, kao 14-godisnjak, pocetkom 1950ih godina otisao na trku sa svojim caletom Lee Petty (3 puta NASCAR sampion) u porodicnom Oldsmobile. Lee je vozio trku, ali je toliko slupao Oldsmobile da je auto zavrsio na otpadu, a Richard i Lee su morali stopirati da bi se vratili kuci.
NASCAR nije dozvoljavao ni najmanje modifikacije u najjacoj Grand National seriji (postojala je posebna divizija za modifikovane modele) i cesto su kaznjavali vozace zbog modifikacija (a posto je velik broj vozaca pre trka se bavio moonshine automobili su cesto imali modifikovanu suspenziju).
Prvi NASCAR automobili (NASCAR je osnovan 1949) su uglavnom bili predratni i NASCAR je predstavljao kao hobi vozacima za vikend.
Medjutim, pocetkom 1950ih ljudi primecuju da se moze solidno zaraditi kroz trkanje. Iako su i dalje vecina vozaca vozili privatne automobile, u celu pricu se ukljucila i jedna kompanija - Hudson. Hudson Hornet je imao 145 hp i bio poprilicno bolji od konkurenata i belezio odlicne rezultate. Fabulous Hudson Hornet je pobedio 27 od 34 trke u 1952 sezoni, 22 od 37 trka u 1953 sezoni i 17 od 37 trka u 1954 sezoni
Uskoro se u pricu udruzio i bogatas Carl Kiekhaefer koji je koristio Chrysler 300 Letter Series (300 hp). Njegovi automobili su zabelezili 22 pobede u 1955 sezoni i 30 pobeda u 1956 sezoni. Medjutim, zbog svadje sa predsednikom NASCAR Bill France, Carl Kiekhaefer se povukao iz NASCAR posle 1956 sezone.
Zbog recesije kompanije su se pomalo povukle iz NASCAR krajem 1950ih, a su se privatni vlasnici i dalje takmicili. Oldsmobile se poprilicno izdvojio od ostalih. Na slici je #42 Oldsmobile koji je Lee Petty koristio da pobedi prvu 1959 Daytona 500.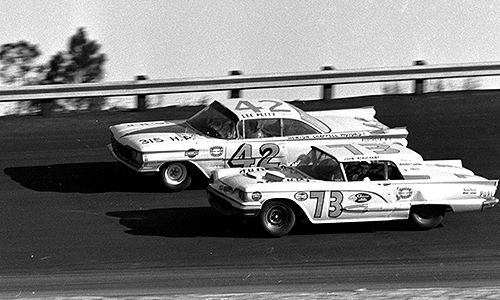 Pocetkom 1960ih u pricu se ukljucuje i Pontiac, sa cuvenim Bud Moore koji je pripremao automobile za trke.
Ali prava trka sledi izmedju Chryslera (Plymouth i Dodge) i Forda (Ford i Mercury). Obe kompanije su pravile mocne motore specificno za NASCAR, Chrysler sa Hemi, a Ford sa 427.
Chrysler predstavlja Hemi 1964 godine i nakon dominacija Richard Pettya NASCAR banuje Hemi jer nije bio serijski motor.
Ford odgovara sa cuvenim 1965 Ford koji je u 1965 sezoni pobedio 49 od 55 trka. Vecina najboljih vozaca iz 1960ih su tada vozili za Ford. Fordove je pripremao cuveni Holman Moody, ali su se takmicili samo u najvecim trkama koje su donosile najvise novca.
1969 godine pocinje aero rat, Ford sa Torino Talladega, a Chrysler sa Dodge Daytona i Plymouth Superbird. Sva tri modela su bili limited edition i napravljeni u serijskim brojevima samo da bi zadovoljili NASCAR uslove.
Medjutim, pocetkom 1970ih udara nova kriza u Americi. Ford se u potpunosti povlaci iz NASCAR, a Chrysler ostaje jedino uz Richard Petty. Automobili dizajnerski ostaju isti kao i serijski, ali je mehanika bila kao pre 1971.
To koristi GM i sa Chevroletom pocinje da dominira.
GM je uglavnom dominirao tokom 1970ih, a pored Chevroleta treba izdvojiti i novi Oldsmobile iz kraja 1970ih.
Kroz 1980s pocinje novi aero rat, ovaj put izmedju GM-a i Forda. Chrysler se povukao posle 1982 sezone. Medjutim, kompanije pocinju da koriste samo skoljsku serijskih automobila, dok mehanicki nisu imali nista zajednicko.
GM su predstavljali Buick Regal i Chevrolet Monte Carlo.
Dok je Ford predstavljao Thunderbird sa fenomenalnim Bill Elliottom za volanom.
Kroz 1990s slicna situacija je bila, Chevrolet sa Monte Carlo, a Ford prvo sa Thunderbirdom, a onda i sa Taurusom. NASCAR je tad opet promenio pravila i NASCAR automobili su samo imali isti krov, haubu i prednji branik u poredjenju sa serijskim automobilima.
Ovakva situacija se nije menjala sve do 2007 sezone kada je predstavljen novi automobil, poznat kao COT (Car of Tomorrow). Svi automobili dele istu skoljku.